Parker Hill/Fenway Neighborhood Service Center
Services

Our Door's Open
In addition to our core services, individuals 55 and up are able to participate in the Senior Center. The Senior Center hosts a variety of activities including, health workshops, art class, field trips and Bingo. A hot meal is provided to participants for lunch.
Along with Immigration services such as green card renewal and citizenship through naturalization we offer civics classes to help with preparation for the citizenship exam. For individuals just starting to learn English or those who are looking to improve their English we offer English for Speakers of Other Languages (ESOL) class. ESOL class is offered in three levels beginner, intermediate, and advanced. Each class aims to improve a students English in speaking, writing, and reading while also helping students to seek job opportunities or career training.
ADDITIONAL SERVICES
• Child Injury Prevention Class
• Holiday Programs
• Tech Goes Home
GET TO KNOW US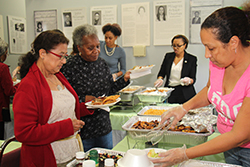 All ABCD locations serve income eligible residents in Boston and several neighboring cities and towns. In addition to our core resources, which you can access on our homepage or by clicking the "All Services" button in the main navigation, we offer individual case management and frequently conduct special workshops and classes. Please check the Events page to see what's happening at our location and throughout Greater Boston.
GIVE BACK BY VOLUNTEERING
ABCD could not do what we do without the help of passionate volunteers. Join us for a day-long project, help out at a major event, or lend a hand on a regular basis. You'll make a world of difference to our neighbors in need.
NEIGHBORHOOD ROOTS
Every ABCD location is all about the neighborhood. Each one is led by an advisory board, and we welcome ideas and input from all community members, including you!