Youth Engaged in Action (YEA!)
Where are our future leaders? Right here. This innovative program prepares young teens for the future by introducing them to people, resources and powerful experiences that instill knowledge, confidence and determination.
WHO QUALIFIES?
YEA! is a free summer program designed for 13 year olds living in the Greater Boston area whose families meet income eligibility requirements.
For more information:
Contact your nearest ABCD neighborhood location to learn more!
SO MUCH LEARNING. SO MUCH FUN.
ABCD'S YEA! PROGRAM (YOUTH ENGAGED IN ACTION) is a two-week course designed for income-eligible middle school 13-year olds. YEA! builds on their ability to become young leaders through awareness, advocacy and the opportunity to take action. Throughout the session, they will learn how government works, how to take positive action on challenges that face our community, and how financial wellness is important for themselves and their communities at large.
YEA! packs in workshops and invites experts to teach them how to budget money and save for the future, and they learn how to present themselves and practice good judgment in the digital world.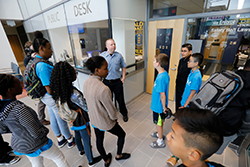 YEA! youth also learn key job readiness skills and have priority admission to the sought-after ABCD SummerWorks paid internship and job readiness program.
YEA! Flyers: Chinese | Haitian Creole | Spanish | Vietnamese