Tax Assistance
If you qualify, we provide you with free tax preparation assistance that can help reduce your tax burden and get back money that can help you pay off debt and build savings.
Who Qualifies?
We provide free tax assistance if you're income eligible and meet a few other requirements. For instance, if you earned less than $57,000 in 2020, you may qualify.
Get the refund you've earned
Last tax season, ABCD completed a total of 3,117 returns which resulted in a total of $7.9 million in federal and state refunds.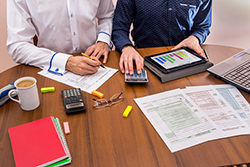 As a leading partner of the Volunteer Income Tax Assistance (VITA) program and the City of Boston's Tax Help Coalition, ABCD provides low and medium income Boston area residents with free electronic Federal and Massachusetts state tax preparation. 
Our VITA volunteers are IRS-certified annually and are trained to assist you in finding all the tax credits you deserve—including those you may not have known you were even eligible for like the Earned Income Tax Credit (EITC).
We also provide these services to people with disabilities and limited English speaking taxpayers who need assistance in preparing their own tax returns. In fact, services are available in many languages.
In addition to VITA, the Tax Counseling for the Elderly (TCE) program offers free tax help for all taxpayers, particularly those who are 60 years of age and older, specializing in questions about pensions and retirement-related issues unique to seniors. That includes the Massachusetts Senior Circuit Breaker tax credit, which allows taxpayers age 65 or older who own or rent residential property in Massachusetts a credit relating to the amount of real estate taxes paid on the property. 
We also encourage you to ask about the Financial Check Up, which was developed by our partner, the Boston Tax Help Coalition. If you're a Boston resident, this one-on-one financial assessment offers the opportunity to review your credit report with a trained financial guide and learn how to improve that credit over time.
* Tax services available by appointment only. Please call your local ABCD site to schedule a consultation.
DON'T FORGET TO HAVE READY:
Valid Government Issued Photo ID

Social Security card or Individual Taxpayer ID Letter (ITIN) for you, your dependents and/or your spouse

All 1099 forms – 1099G (unemployment), 1099R (pension payments), 1099INT (bank interest), 1099SSA (Social Security)

All W2 forms from all jobs for 2019

Proof of health insurance (health insurance cards, 1099-HC, 1095-A, etc.) for taxpayer, spouse, and all dependents**

Total child care expenses in 2019, and child care provider's name, address, and Employer Identification Number (EIN) or SSN

All 1098T forms (tuition payments), receipts for materials and books and bursar statement

Total student loan interest paid (1098E)

A copy of last year's tax return

Bank issued printed account and routing numbers for direct deposit of your tax refund

Proof of ANY deductible out of pocket expenses (annual BWSC, 1098E, charitable receipts, etc.)

Verification of the stimulus payment amounts you received in 2020

Any mail from the Massachusetts Department of Revenue

Any mail from the IRS
**Taxpayers who have received or expect to receive health insurance credits need to bring proof of ALL household income.
Without all documents, we cannot complete your tax returns.
WANT TO HELP? BECOME A VITA VOLUNTEER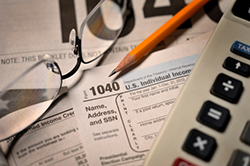 Spend a few hours a week providing free tax preparation assistance to low to moderate income families in your community—and make all the difference. Your training is free, and you'll become an IRS-certified tax preparer, thanks to the federal Volunteer Income Tax Assistance (VITA) program.

TO BECOME A VITA VOLUNTEER TAX PREPARER, contact ABCD's Volunteer Coordinator Dasia Martinez at 617.348.6591 or email us at volunteer@bostonabcd.org.
TO MAKE AN APPOINTMENT TO SEE IF YOU QUALIFY FOR FREE TAX PREPARATION, contact your nearest ABCD Neighborhood Center.