SummerWorks
Take a major step forward. As an ABCD SummerWorks participant, you'll take part in career development workshops and be placed in a job that gives back to the community, all while earning a paycheck.
WHEN? 
ABCD SummerWorks 2023 will run from June 26th to August 25th.
THE BASICS
We are offering positions in person at worksites throughout Boston with the goal of helping you gain skills and explore different pathways.
Don't wait! ABCD SummerWorks offers a limited number of openings, so it's run as a lottery. The sooner you complete your application, the better your chances of getting in!
WHO QUALIFIES? 
If you're a Boston resident age 14 to 21, we encourage you to apply. But apply early because space is limited. Each year we start accepting applications on February 1st.
You must be between the ages of 14 to 21 as of June 28. If you will turn 22 on or after June 28, you may still apply and be eligible.
GET SKILLS, GET MOTIVATED, GET PAID!
Learn skills that will serve you now and throughout your life, including: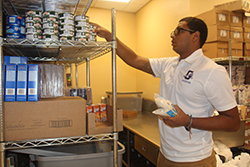 Collaboration
Leadership
Financial education
Workplace etiquette
Resume writing
We're as focused on your success as you are. Mentoring and career skills development are very much part of SummerWorks. You might explore a career path in healthcare, youth services, early childhood education, government, business — any number of options.
These days, finding a job on your own can be difficult. Becoming an ABCD SummerWorks participant can help you move from youth to adulthood with confidence and purpose. Get on a track for success in high school and college, a career you choose, and higher earnings in the future.