SummerWorks
Take a major step forward. As an ABCD SummerWorks participant, you'll take part in career development workshops and be placed in a job that gives back to the community, all while earning a paycheck.
SPECIAL NOTICE
Because of the COVID-19 pandemic, ABCD SummerWorks will feature a "rolling curriculum" throughout the summer. That means we're still accepting applications.
We've transitioned the program to an online experience to keep everybody healthy and safe. If official restrictions are relaxed or lifted, we may offer limited 4-week internship placements.
Participants will do project-based work for 4 to 5 weeks and will receive $1,000 to $1,275 after successful completion of the program. Trainings lead to certification in Google Suite, which includes Docs, Sheets, and Slides, as well as in productivity and team leadership.
WHO QUALIFIES?
If you're a Boston resident age 14 to 21, we encourage you to apply. But apply early because space is limited. Each year we start accepting applications on February 1st.
You must be age of 14 to 21 as of June 29th. If you will be turning 22 on or after June 29th, you may still apply and be eligible to work.
GET SKILLS, GET PAID, GET MOTIVATED
Learn skills that will serve you now and throughout your life, including: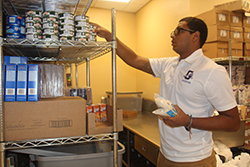 Resume writing
Financial education
Workplace etiquette
Conflict resolution
We're as focused on your success as you are. Mentoring and career skills development are still very much part of SummerWorks. You might explore a career path in healthcare, youth services, early childhood education, government—any number of options.
These days, finding a job on your own can be difficult. Becoming an ABCD SummerWorks participant can help you move from youth to adulthood with confidence and purpose. Get on a track for success in high school and college, a career you choose, and higher earnings in the future.