WORKING AT ABCD
Everyone in the ABCD family plays a role in carrying out our mission.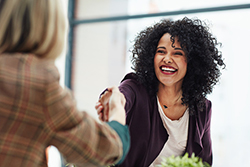 Some of us work directly with the people we serve, while others keep the organization running smoothly.
We are a community of people working together bringing our ideas, passion and experiences to an environment rooted in creating a better tomorrow for families in Boston, Mystic Valley and surrounding neighborhoods.
The success of our organization at its foundation is built on the respect and trust of the people in the neighborhoods around us and employees vested in our mission, and without their support and commitment, we wouldn't be able to deliver much-needed services.
DIVERSITY & RACIAL EQUITY
Here at ABCD, our employees are as diverse as the individuals and families we serve. We are community advocates, educators, students, mentors, volunteers and businesspeople.
At ABCD your passion can influence those around you. It inspires, motivates and drives us, shaping the way we work and creating positive change in lives both in communities and at our agency.
In 2020, a rapid succession of police killings of African American and Black people captured on video sparked nationwide protests. We witnessed expanding consciousness of systemic racism, prompting many who had never engaged before to speak out and create positive change.
Since our founding, we have recognized the role of racial injustice in helping to create and perpetuate poverty over generations. We recommit to shining a light on this connection and being a pivotal agent of change. Please read our Commitment to Racial Equity.
ABCD is the organization it is because of the people who believe in our mission, and for nearly 60 years we continue our practice of developing innovative and successful programs. Many of our employees have started here as volunteers or interns or landed their first job out of school. And many stay for five, ten or more years because we recognize talent and dedication, and we do our best to cultivate our staff.

BENEFITS
ABCD offers a competitive and comprehensive benefit package to our employees and their families, with the flexibility to select a plan that meets their needs as well as establish a foundation for financial security. Benefits include:
Health Insurance

Dental Coverage

Flexible Spending Account (FSA)

Dependent Care Assistance Program (DCAP)

Life/Disability Insurance

Voluntary Tax-deferred Retirement Plan

Direct Deposit

T Pass (MBTA) program

Paid Time Off Plans

13 Observed Holidays

Paid Parental Leave
Action for Boston Community Development is an Equal Opportunity employer. All qualified applicants will receive consideration for employment without regard to race, national origin, age, sex, religion, disability, sexual orientation, marital status, veteran status, gender identity or expression, or any other basis protected by local, state or federal law.