North End/West End Neighborhood Service Center
Services

IN ADDITION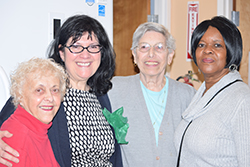 Seniors enjoy a number of programs including a drop-in senior center, health, exercise, and wellness classes, social activities, discounted taxi vouchers, and a supermarket shuttle.
We provide hot meals on Mondays and Fridays, as well as snacks 3 times a week, primarily for seniors, people who are disabled or homeless.
We offer a range of educational presentations; job readiness programs; assistance with your search for affordable housing; assistance with your health insurance application (Medicare Part B); translation and interpretation services in Italian, Mandarin, and Turkish, and notary services.
During the holidays, we can provide holiday meals, gifts, and participation in our Adopt-a-Family program.
GET TO KNOW US

All ABCD locations serve income eligible residents in Boston and several neighboring cities and towns. In addition to our core resources, which you can access on our homepage or by clicking the "All Services" button in the main navigation, we offer individual case management and frequently conduct special workshops and classes. Please check the Events page to see what's happening at our location and throughout Greater Boston.
GIVE BACK BY VOLUNTEERING
ABCD could not do what we do without the help of passionate volunteers. Join us for a day-long project, help out at a major event, or lend a hand on a regular basis. You'll make a world of difference to our neighbors in need.
NEIGHBORHOOD ROOTS
ABCD is a part of your neighborhood. Each of our locations has a Neighborhood Advisory Board whose members keep us in touch with your community's current issues, needs and goals. Interested in serving on the advisory board? Have questions or comments? Call or email us anytime.
Food Pantry Hours – North End
1 Michelangelo Street
Boston, MA 02113

Tuesday-Thursday: 12:30 pm to 3:00pm
Food Pantry Hours – West End
Boston Public Library
West End Branch
151 Cambridge Street
Boston, MA

Monday and Wednesday: 11:30am to 1:30pm
Tuesday: 4:00pm-5:45pm