Buona Sera: An Evening with Friends 2022
October 6, 2022 @ 5:30 pm

-

10:00 pm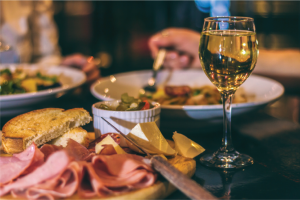 How do you join ABCD's Buona Sera: An Evening with Friends? Easy. Your company purchases a table for 10, and you let us know if you have a preferred celebrity and restaurant, or even if you just have a basic preference between getting to know a local politician versus a sports/media figure. We'll pair you up with a restaurant, and a celebrity.
Invite 10 of your favorite people (including yourself of course) — your favorite clients, your best employees, your most enjoyable colleagues — people who are fun to talk with, who will enjoy an evening over some of the best food in the North End, with an intriguing celebrity added to your table for added sparkle.
On the evening of Buona Sera, logistics are simple for you and your guests. Everyone meets at 60 State Street (bring a photo ID and COVID vaccine card for entry). You'll be directed to the 26th floor for the Wine Reception. All Buona Sera participants including the celebrities gather together for a glass of wine, nibbles, mingling, and enjoying the view over the North End, before dinner. This year the reception will be headlined by Arthur Jemison, Boston's new BPDA Director and Chief of Planning.
After, everyone strolls over to the North End to their designated restaurant where their table for 10 plus celebrity awaits. Dinner may be full menu, short menu or served family style, depending on the restaurant. Prepare to be amazed by some of the best food in the North End. Full meal and wine are included. (Mixed or specialty drinks, or additional wine, can be purchased separately if preferred.) A generous tip has been provided for the waitstaff, so your table is all set, no worries. Just sit back and enjoy your Evening with Friends from beginning to end.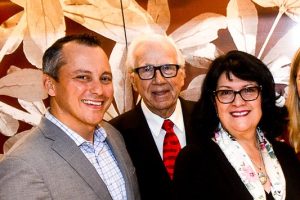 We look forward to having you join us for our 10th year of ABCD's Buona Sera: An Evening with Friends.  If you have a restaurant or celebrity preference, act soon to secure your first choice! (If a celebrity is in super high demand, still be sure to act soon, but we'll be fair and pick the lucky table out of a hat)
All proceeds benefit the ABCD North End/West End Neighborhood Service Center, which provides essential services to low-income and at-risk elders in our local community. Our organization and budget are local, so your table donation will go a long way in providing support and services for those in need nearby in the community. We thank you very much for your support!

2022 celebrities:
Arthur Jemison Chief of Planning/Director, Boston Planning & Development Agency • Aaron Michlewitz State Representative • Sal DiDomenico State Senator • Lydia Edwards State Senator • Jay Livingstone State Representative • Kenzie Bok City Councilor, West End • Gabriela Coletta City Councilor, North End • Michael Christopher Director of Development Review, Boston Planning & Development Agency • Greg Hill Host of The Greg Hill Morning Show on WEEI • Jermaine Wiggins New England Patriots Alumni, Greg Hill Show Host on WEEI • Courtney Cox Greg Hill Show Host on WEEI • Andy Brickley Boston Bruins Alumni, NESN Bruins Color Commentator • Andrew Raycroft Boston Bruins Alumni, NESN Bruins Studio Analyst

2022 restaurants:
Antico Forno • Artu • Arya Trattoria • Assaggio • Boston Sail Loft • La Famiglia Giorgio's • Mamma Maria • Ristorante Euno • Ristorante Fiore • Saraceno
and more!
Questions? Contact Juila Power at
617.523.8125 Ext. 201

or julia.power@bostonabcd.org.