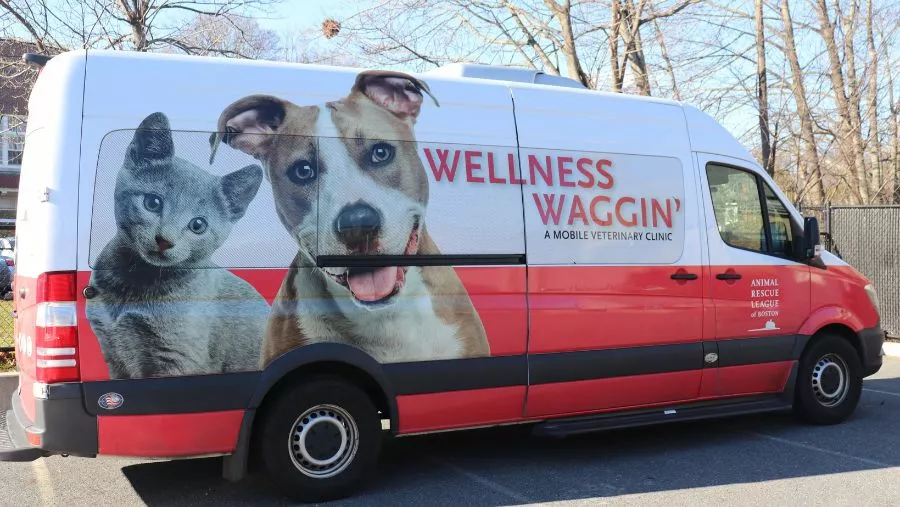 BOSTON (WBZ NewsRadio) — An affordable pet clinic from the Animal Rescue League Boston, dubbed the "Wellness Waggin,'" is celebrating the completion of its 10,000th appointment.
The mobile clinic results from a partnership between the ARL and the nonprofit Action for Boston Community Development to offer pets physical exams, rabies vaccines, distemper vaccines, flea treatments, and microchips for the price of $10. According to the ARL, those services would typically cost around $300 in at any other veterinary clinic.
WBZ's James Rojas spoke to President and CEO of the ARL Edward Schettino at the celebration in Roxbury Monday morning at the nonprofit's location on Warren Street.
"People come to us with their pets that haven't been to a vet before— not because they didn't want to go, but because they weren't able to because of cost or location," Schettino said. Among the thousands of pets treated, Luca, a one-year-old chihuahua and pug mix was getting a checkup with his owner Miralia Sanchez nearby.
The ABCD's President Sharon Scott-Chandler says it was an honor to host the ARL for the major milestone.
"I get to see cute little dogs, cats, I think we've had rabbits. Our families are under stress, they're burdened and this partnership allows them to take care of their pets in an excellent way, a local way, coming to them convenient. The cost burden can be devastating if they have to give up a pet," Scott-Chandler said.