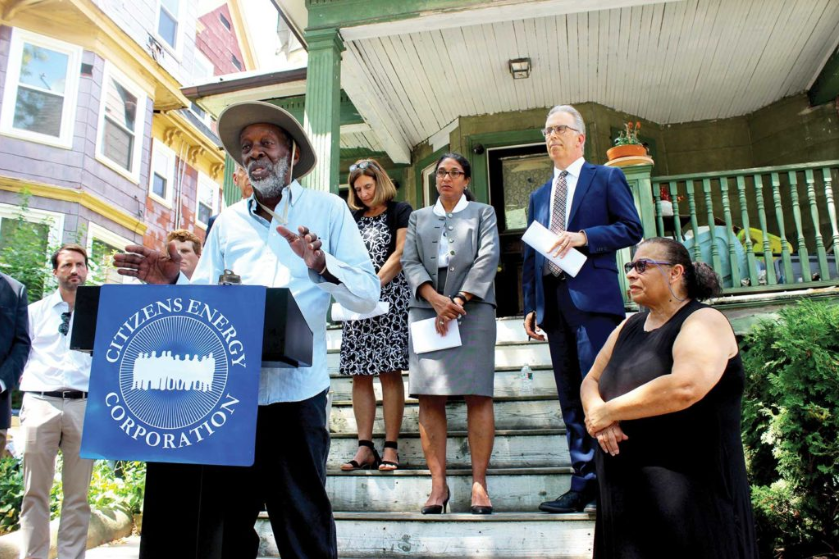 Former U.S. Rep. Joseph Kennedy III and several representatives from local organizations that provide reduced-cost and no-cost energy to low-income residents came together in Roxbury last week to urge President Joe Biden to increase federal funding to $10 billion for fuel assistance programs next year.
The ask comes just a week after President Biden visited Massachusetts and promised to help states mitigate the effects of climate change, including combating extreme weather.
Standing outside the home of Phillip Mayo, a 75-year-old recipient of federal Low-Income Home Energy Assistance Program (LIHEAP) funds, Kennedy spoke about the need to fund the program, as unprecedented heat waves along with the cold approaching this fall and winter pose threats to vulnerable residents both in Massachusetts and across the country.
…
Also speaking last Wednesday were representatives from Action for Boston Community Development (ABCD), one of the primary distributors of LIHEAP funds, and Michael Kennedy, representing Citizens Energy, a nonprofit founded by Joseph Kennedy II to assist low-income households with energy payments.
According to Sharon Scott-Chandler, president and CEO of ABCD, her organization saw a huge need in the last year, serving more than 24,000 customers in the greater Boston area with a maximum benefit of $2,100 for households with incomes at 100% of the federal poverty level.
"Yet with escalating prices and bitter cold, folks still exhausted benefits," she said Wednesday. "By April, 75% of our clients had used up their benefits and were under great strain. Looking ahead, if we don't secure the requested funding, many vulnerable elders and families will find themselves in crisis."