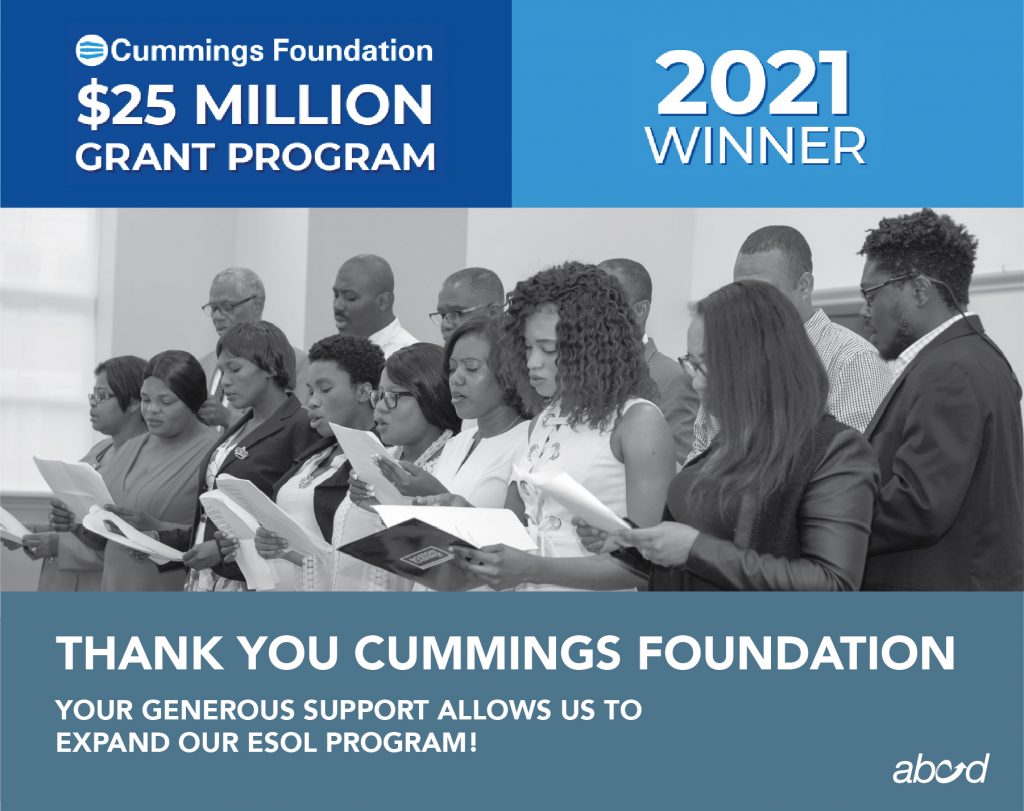 Acknowledging ABCD's "important, impactful work," the Cummings Foundation has awarded the anti-poverty organization a generous three-year $100,000 grant to expand its Adult ESOL (English for Speakers of Other Languages) program. ABCD will establish an ESOL Summer Academy, providing the opportunity for students to continue their learning year-round.
"This generous grant is an investment in newcomers to Greater Boston, people in search of a better life in America" said ABCD President/CEO John J. Drew. "Establishing the Summer Academy addresses an extreme need for a highly motivated community."
ABCD's Adult ESOL program offers classes in Mattapan, Roslindale, and Roxbury, serving students in the communities where they live or work. The nearly 300 students in the program come from across the globe and speak more than 12 different languages.
The Cummings Foundation grant enables each of the three sites to offer a level 1 and level 2 class through the Summer Academy, beginning in July 2021. Small class sizes of 12 to 16 students allow for a high level of individual attention. The curriculum focuses on practical communication skills for daily life as well as entry into and advancement in the workforce.
Immigrants represent more than a quarter of Boston's population and nearly 30% of the Boston workforce. The growth of the economy in Boston, and across Massachusetts, has been made possible largely by immigration. ABCD's Adult ESOL program helps striving immigrants learn English language skills in order to realize their full potential in their new home.
With the capacity to serve up to 90 students, the Academy will be smaller than the school-year program, but ABCD sees this as a start and will seek to grow the Academy in the future. The Cummings Foundation, based in Woburn, was established by Joyce and Bill Cummings and has grown to be one of the three largest private foundations in New England. ABCD is proud to be one of the 140 local nonprofits to receive generous multi-year grants from the Foundation this year. Learn more at cummingsfoundation.org.