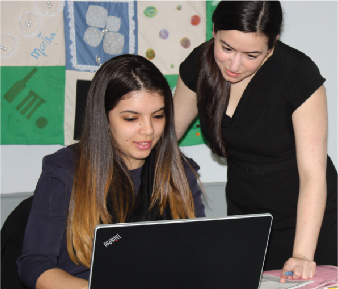 ABCD has recently been notified of a generous grant from the Massachusetts Department of Elementary and Secondary Education (DESE) to expand the capacity of its English for Speakers of Other Languages (ESOL) program. The new DESE grant supports a 33% increase in capacity through the addition of five classes, enabling 72 additional students to enroll in classes.
ABCD currently offers adult ESOL classes at three of its neighborhood locations—the Mattapan Family Service Center, Parker Hill/Fenway Neighborhood Service Center, and South Side, which is co-located with ABCD's Roslindale Head Start & Children's Services Center.  The current classes have a total capacity of 218 students.
ABCD has offered adult ESOL classes since the 1970s. Highly interactive classes enable students to communicate better in practical, real-life situations, resulting in improved job prospects, increased parental participation in children's education, better advocacy skills, and community members who are more equipped to give back. In addition to ESOL instruction, the programs provide an orientation to the local job market as well as skills training and educational opportunities that prepare participants for jobs in upwardly mobile sectors of the economy. Targeted ESOL instruction familiarizes parents with Boston Public Schools and ways to support their children's learning. Current students come from more than 20 countries, with a wide range of native languages, including Spanish, Vietnamese, Haitian Creole, and Arabic.
The three ESOL sites are all co-located with ABCD Head Start programs, providing the opportunity for limited English speaking Head Start parents to learn English while their young children are preparing for success in school. In fact, one third of the current ESOL students are Head Start parents, and several Head Start teachers started out as Head Start parents who learned English at an ABCD ESOL program.
This grant, and other similar DESE grants across the state, are possible because the state legislature responded to the huge wait lists for ESOL and adult basics education classes by increasing the funding for adult education in the FY20 state budget. Thank you to our legislators for championing this important cause.
ABCD is grateful for grants from DESE, English for New Bostonians, and the Mayor's Office of Workforce Development that support the ESOL program.