Recognizing the emotional value pets bring to people who struggle to get by, ABCD announced a groundbreaking partnership with the Animal Rescue League of Boston (ARL) to bring high-quality, low-cost pet wellness care to residents of Dorchester, Roxbury and Mattapan. On July 10th a ribbon cutting ceremony took place for the new Wellness Waggin', a mobile veterinary clinic equipped with an exam room and surgical suite. For just $10, owners can book an appointment for their pets to receive a physical exam, rabies and distemper vaccines, flea treatment and a microchip implant in the Wellness Waggin'. These services would normally cost upwards of $300.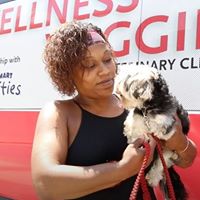 ABCD President/CEO John J. Drew said, "Our dogs and cats are part of the family. The people we serve face serious financial barriers, and their pets bring much-needed joy into their lives. Unfortunately, veterinary care is expensive, and when a pet gets sick, it can lead to real financial hardship.He went on to thank ARL President Mary Nee and ABCD EVP/COO Sharon Scott-Chandler for making this unique partnership a reality. And of course the program wouldn't exist without the generosity of PetSmart Charities and the Mable Louis Riley Foundation.
The Wellness Waggin' is hosted at the ABCD Roxbury/N. Dorchester NOC on Mondays, the ABCD Dorchester NSC on Wednesdays and starting August 30
th
at the ABCD Mattapan FSC on Fridays. Visit the
Animal Rescue League website
to learn more or book an appointment, and
click here
to watch our new video!