William J. Ostiguy High School
A second chance for students in recovery. At Ostiguy High, our academic, clinical and supportive services are aimed at assisting your recovery from substance abuse as you work towards earning your high school diploma and taking the next step — college, vocational training or employment.
Who qualifies?
Students in recovery, age 14 to 21, primarily from Greater Boston, but we also accept referrals from across eastern Massachusetts. Students can be referred through schools, parents, courts, state agencies, drug and alcohol treatment organizations, community youth programs, and residential programs.
Recovery and Discovery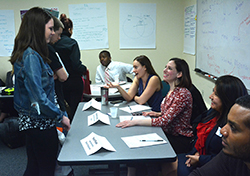 Established in 2006, Ostiguy is the first high school in the nation to be accredited by the Association of Recovery Schools. Serving 75 students annually, we feature small class sizes, certified teachers with expertise in both their subject area and working with youth in recovery, afterschool and summer opportunities for tutoring and catching up with course credits, along with standardized test preparation to address your specific needs.
Guided by the expertise of the Gavin Foundation, a nonprofit agency that provides community based substance abuse treatment, education and prevention, and other treatment partners, you and your parents or guardians will develop and regularly update your own individualized recovery plan. Licensed counselors will facilitate one-on-one and group counseling that will help you learn, acknowledge and apply the behavioral, emotional, academic and social skills necessary for you to progress in your recovery and academics.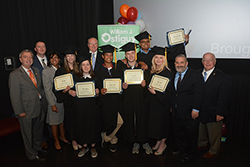 We're built on a foundation where parents are partners and students are peers. Your responsibility is to work hard, stay sober, support your classmates and abide by the terms of an Accountability Contract you sign with your parents. Our responsibility is to give you the tools to help you succeed in every way.