Holiday Meals
Celebrate the season with a hearty meal and a helping hand from ABCD.
Who qualifies?
If your family meets Boston residency and income guidelines, you are welcome to ABCD holiday meal assistance. Contact your nearest ABCD neighborhood site for full eligibility details.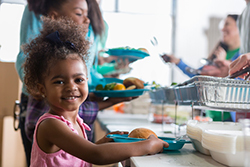 Food is love, especially during the holidays
When you don't have the means to prepare a holiday feast, ABCD puts the holiday spirit into action by providing access to healthy and heart-warming holiday meals. Food baskets, turkeys, and other holiday meal supplies are available for pickup at many neighborhood sites from mid-November through the end of December.
Please note: Sign-up is required and starts October 1. Call or come into any ABCD location for more information on holiday meal availability and an application.
And keep in mind that ABCD offers a range of services that might be helpful to you. Visit our Services page and explore!
DONATE A MEAL
Reach out to a family in need this holiday season. Donate a meal or learn about other ways to make a difference.