Emergency Broadband Benefit
Are you struggling to afford internet during the pandemic?
If so, CHECK OUT the EMERGENCY BROADBAND BENEFIT today.
This benefit provides:
– Up to $50/month discount for broadband services
– Up to $75/month for households on qualifying Tribal lands; and
– A one-time discount of up to $100 for a laptop, desktop computer, or tablet purchased through a participating provider.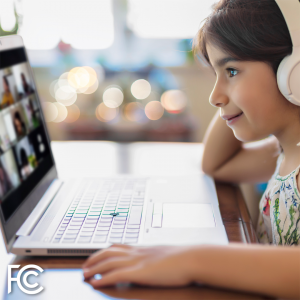 Who is eligible?
You're eligible if one member of the household:
• Has an income that is at or below 135% of the Federal Poverty Guidelines or participates in certain government assistance programs;
• Receives benefits under the free and reduced-price school lunch or breakfast program;
• Received a Federal Pell Grant during the current award year;
• Experienced a substantial loss of income due to job loss or furlough since February 29, 2020; or
• Meets the eligibility criteria for a participating provider's existing low-income or COVID-19 program.
2021 POVERTY GUIDELINES FOR THE 48 CONTIGUOUS STATES AND THE DISTRICT OF COLUMBIA
PERSONS IN FAMILY/HOUSEHOLD
POVERTY GUIDELINE
For families/households with more than 8 persons, add $4,540 for each additional person.
1
$12,880
2
$17,420
3
$21,960
4
$26,500
5
$31,040
6
$35,580
7
$40,120
8
$44,660
To find out more about the Federal Poverty Guidelines, click here.
How Do I apply?
There are three ways to apply for the Emergency Broadband Benefit:
1 – Contact your Preferred Participating Provider directly. Ask your provider if they participate in the EBB, or use our online tool to find a participating company near you.
2 – Apply Online. Use the online application at GetEmergencyBroadband.org
3 – By Mail. Print an application in English or Spanish. Complete the application and send with proof of eligibility to:
Emergency Broadband Support Center
P.O. Box 7081
London, KY 40742