Thelma D. Burns Building

in the heart of the community
A stunningly renovated event space in Boston's historic Grove Hall neighborhood, ABCD's Thelma D. Burns building hosts public and private events that serve and enrich the community.
ABCD dedicated the building to Ms. Burns, a longtime community activist and advocate who has served on the organization's board of directors for more than 35 years. An alumna of Boston University and Harvard University, she spent the majority of her career as METCO director for the Belmont Public Schools. Always at the forefront of social justice initiatives. she is a former Robert F. Kennedy Human Rights Fellow.
A brief history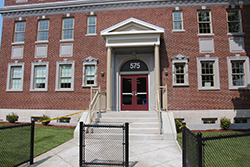 Constructed in 1927 as the Beth Hamadrath Aperion Plaza, the building functioned as a synagogue, kosher caterer and social center for the Jewish community. In 1968 it became the Skycap Plaza nightclub, and in 2001, Charles Street AME church bought the property.
The venue is now part of ABCD's neighborhood network, and specifically one of three buildings on the two acre Roxbury/North Dorchester campus. The two other buildings house the ABCD Roxbury/North Dorchester Neighborhood Opportunity Center and ABCD Walnut Grove Head Start.
The Thelma D.Burns building is also home to ABCD's University High School, an innovation school for non-traditional students operated in partnership with Boston Public Schools.
We welcome you to contact us for information about renting this beautiful space for your next event!
Get Directions