COVID-19 Vaccine Information
Updated 03/24/21
Please check back here for the latest COVID-19 vaccine-related information.
There's a lot of information about the COVID-19 vaccine out today. We hope these resources will simplify your search.
Here are a few key facts:

The vaccine is free

Anyone who lives, works, or studies in Massachusetts can get a vaccine

You can get vaccinated even if you are undocumented. Getting a vaccine will not impact you or your family's immigration status. The Public Charge rule does NOT apply to getting the vaccine.
For more information about the vaccine and how it's being supplied in Massachusetts, go to mass.gov/info-details/trust-the-facts-get-the-vax.
PHASES and eligibility
The COVID-19 is being rolled out in phases throughout the country and the state.
We are currently in Phase 2 Group 3.
Each phase has its own eligibility criteria. Check out the chart below to see information about Phases 1 & 2.
For information on all of the phases, visit https://www.mass.gov/info-details/massachusetts-covid-19-vaccination-phases.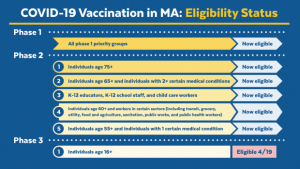 K-12 teachers and early childhood educators are now eligible to get vaccinated. In addition to the established ways to book an appointment, these groups can also get the vaccine at CVS. Go here to book an appointment.

How can I book an appointment to get the COVID-19 vaccine?
COVID-19 vaccine supplies are limited, but residents can schedule an appointment at several websites:
1A. Eligible people who live, work, or study in Massachusetts can also preregister for a COVID-19 vaccine appointment at a mass vaccination location: Fenway Park, Gillette Stadium, Reggie Lewis Center, DoubleTree Hotel-Danvers, Eastfield Mall-Springfield, Natick Mall, former Circuit City-Dartmouth. By preregistering, people will have their names placed on the list for when vaccine appointments become available.
To preregister visit: vaccinesignup.mass.gov
1B. Seniors (age 75+), who need assistance with booking a vaccine appointment, can call the COVID-19 Vaccine Hotline at 211, Monday – Friday, 8:30am – 5pm. They may not be able to get an appointment right away, based on availability but can be put on a waitlist to be notified when one opens up.

For more information visit this boston.gov link.
How many vaccines are available?
Currently, three brands of the COVID-19 vaccine are available. They are Pfizer, Moderna and Johnson & Johnson. To learn more about each brand, please visit www.cdc.gov/vaccines/covid-19/info-by-product/index.html
Do you need transportation to get your vaccine?
If you have a scheduled COVID-19 vaccine appointment and are a MassHealth member or Health Safety Net patient, you may receive authorization (PT-1) for "Curb to Curb" transportation services to/from your vaccine appointment. 
MassHealth is providing free transportation to vaccine appointments to any individual that has any type of MassHealth coverage or the Health Safety Net. This includes people with MassHealth Limited, Children's Medical Security Program (CMSP) and MassHealth Family Assistance (FA).  In addition, members can request transportation services directly through MassHealth's Customer Service.
If an individual has MassHealth or the Health Safety Net, they (or a caregiver) the csn call their health plan or MassHealth directly to schedule free transportation at 800-841-2900 (TTY: 800-497-4648).
quick facts

CDC:
Answering Your Questions About the New COVID-19 Vaccines
Frequently Asked Questions about the COVID-19 Vaccine
Additional Information for People Worried about COVID-19 Vaccination
Boston PUBLIC HEALTH COMMISSION:
Mass general brigham:
Vaccine Availability and Scheduling
Mass General Chinese Language Appointment line: 617-636-6119
Massachusetts department of public health:
Latest COVID-19 Updates and Information
Stop COVID-19 – Vaccine education and outreach materials
other:
PRESENTATIONS

BPHC:
cdc:
Related Programs