CHW Behavioral Health Training Course
ABCD Health Services offers a four-session virtual course for Community Health Workers in primary care settings whose patients struggle with substance use and/or mental health issues.
This course focuses on integrating CHWs into behavioral health and primary care teams, and provides a comprehensive introduction to common mental health and substance use disorders.
Over five weeks, the course will cover…
Racial equity in behavioral health

Depression, anxiety, and PTSD

Working with substance users

Patient advocacy

Behavioral health navigation
Participants will build knowledge and skills using real life scenarios and case examples experienced by the trainers and participants.
Trainers are CHWs with lived experience and social workers from health care settings committed to integrating CHWs into behavioral health systems. 
Upcoming trainings:
SESSION DATES (must attend all four sessions):
May 18, 19, 25, and 26, 2022 from 9am to 1pm Deadline: May 11, 2022
July 7, 14, 21, and 28, 2022 from 9am to 1pm Deadline: June 30, 2022
November 8, 9, 15, and 16, 2022 from 10am to 2pm Deadline: November 1, 2022
January 18, 19, 25, 26, 2023 from 9am to 1pm Deadline: January 11, 2023
Complete this form to sign up: bostonabcd.org/chw_form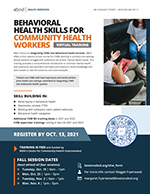 For a printable flyer, click here.